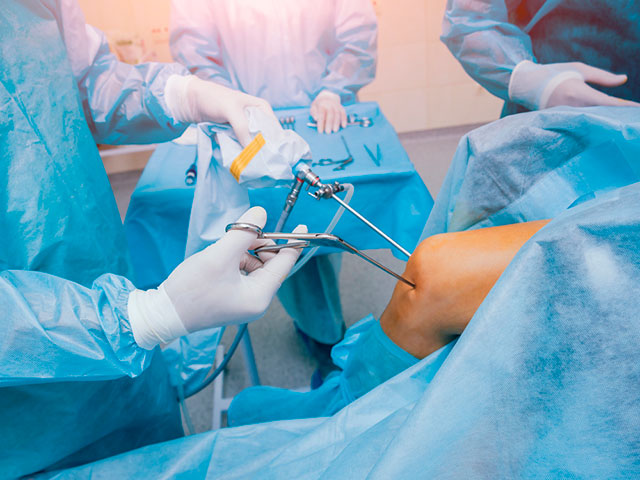 Having been trained in orthopaedic and trauma departments in different hospitals in the Uk, Dr. Alf Neuhaus has a fast experience in treating injuries, from muscle sprain to bone fractures and tendon ruptures.
The clinic's facilities, such as radiographic or ultrasound images, helps to identify the severity of the injury and whenever applicable treatment can be initiated in our clinic (i.e. using modern plaster techniques, wound suture, etc.). Hospital admission is immediately arranged by our team should this be indicated, in which case Dr. Alf Neuhaus will perform the surgical procedure needed and takes care of you (daily hospital visits, treatment plan, wound care, etc.) until discharge home.
Further treatment continues using the facilities of Clínica SANADLF.
Sprains and Falls / Cuts and Bruises
Accidents do happen, twisting your ankle when coming of the pavement, or your knee when playing football, cutting yourself in the kitchen or getting injured when working in the garden. Some of the injuries can be a bit scary and might trouble you much longer than expected. Dr. Alf Neuhaus is always available by phone and would be able to meet you in his office Cliinca SANDALF within 30 minutes or so. The available equipment like digital X-ray and ultrasound scan would allow him to find the injury and classify the degree of damage. Most of these injuries can be treated conservatively with either bandages, tapes, splints, plaster casts or even modern immobilisation boots to give the injury time to heal. If suturing of a cut might be needed it can be done immediately under local anaesthetics, using the operating room at Clinica SANDALF. If needed physiotherapy and/ or massage therapy might be added to allow best and sooner recovery from the Injury.
Tendon – Ligament injuries
Sometimes what seemed to be 'just' a sprained ankle, a pulled shoulder or a twisted wrist might come out to me more serious. Some injuries result in an almost immediate swelling and a bruise around the injured area, which is an indication for a rather more serious injury. After performing a thorough physical exploration Dr. Alf Neuhaus would use radiographic and ultrasound images to detect and classify the injury. In some cases it might even be necessary to perform a MRI scan, which would be done straight away in a nearby private hospital. Some ligament and tendon injuries can be treated conservatively, using splints, plaster casts or boots to immobilise the effected structure long enough to allow for complete healing. But sometimes a surgical procedure might be needed to re- attach or re- connect the damaged tendon/ ligament to its original location/ position. Dr. Alf Neuhaus, trained in trauma surgery, would perform the necessary procedure in a nearby private hospital, if needed even on the same day/ evening. Usually hospital stay should not be longer than a couple of days, and Dr. Alf Neuhaus would look after you with daily hospital visits. The follow up consultations for wound control, suture removal, further radiographic and/ or ultrasound images, joint mobilisation by the UK- trained physiotherapist and massage therapy/ lymph drainage would be performed using the facilities at Clinica SANDALF.
Fractures (Breaks)
In the unlucky event of sustaining an injury resulting in a broken (fractured) bone, Dr. Alf Neuhaus, with the experience of several years of trauma training in the UK, would certainly be able to help. Once the fracture has been identified, using the digital X-ray facility available in Clinica SANDALF, he would discuss the different treatment options with you, depending not only on the severity of the fracture and it's position and alignment, but also on your age, physical and professional demand. Fortunately most fractures are in a 'good' position and 'just' need immobilisation for a few weeks. This would be done either by plaster of Paris, using the much lighter fibre glass material, or by splints or boots available in Clinica SANDALF. All the necessary follow up controls for check X-rays would be done in Clinica SANDALF, including physiotherapeutic joint mobilisation following plaster removal.
Should the radiographic image reveal that the position of the fracture is not acceptable and would require some re- alignment, either using closed manipulation under anaesthetics or open reduction and internal fixation, Dr. Alf Neuhaus would arrange transport, if necessary, to a nearby private hospital for admission and most certainly proceeding with the appropriate procedure a soon as possible, often on the same day. The hospital has a stand by emergency operating team, so surgery could be performed even at night or on weekends/ bank holidays. It has all the equipment and materials that might be needed so Dr. Alf Neuhaus can re-align, fix and stabilise the fractures back in its original position. Hospital stay might be just as a day case or a couple of days for recovery from surgery, and Dr. Alf Neuhaus would look after you with daily visits. The UK- trained physiotherapist might also come in to start mobilisation and gait training immediately, in particular if crutches are needed at the beginning. Following discharge the further consultation for wound control (if applicable), check X-ray, physiotherapy, plaster removal and lymph drainage would be performed in the facilities of Clinica SANDALF.
In urgent cases Dr. Alf Neuhaus might direct you immediately to the hospital and meet you there, where radiographic images and even CT- scans would be performed to identify the severity of the bony injury and to initiate the planning of the surgical procedure immediately, to proceed with the necessary surgical intervention as soon as possible. The material used for bone fixation (plates, screws) is usually mainly made of Titanium, is very light and extremely strong, and usually does not require removal after the bone has healed.
Private Hospital
The private hospital used by UK-trained orthopaedic and trauma surgeon Dr. Alf Neuhaus is about 10 minutes' drive away from his out- patient clinic Clinica SANDALF. This modern and fully equipped private hospital has all facilities needed, 4 state of the art operating theatres, intensive care unit and 24h on-call medical staff and physicians. All rooms are equipped with TV (Spanish, English, German), WiFi and an on-suite bathroom. 
The friendly and helpful staff speaks English, and Dr. Alf Neuhaus and his UK-trained physiotherapists will come in every day of your stay to look after you (wound control, pain medication, arranging further tests if needed, joint mobilisation, etc.).
Please don't hesitate to get in touch with us should you have any further questions or to make an appointment.