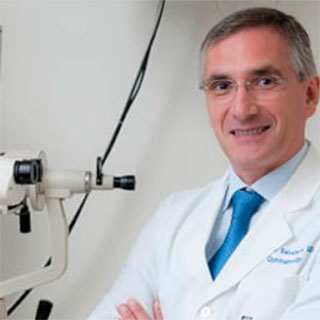 Dr. Mariano Salvatierra studied medicine at the university in Córdoba, Argentina, and continued his carrier in different NHS hospitals in Bogota and Santa Lucia of Buenos Aires, to obtain the titel of specialist eye surgeon – ophthalmologist. He continued his training as an eye specialist at the Bascon Palmer Eye Institute of Miami, United States.
Dr. Mariano Salvatierra has moved to the south Spain in the early years of 2000, when he opened his own private out-patient clinic for eye problems. He joint joint the team Clinica SANDALF in 2008. Using his experience and the equipment available in Clinica SANDALF he can diagnose the problem and even initiate the treatment immediately.
Standard pathologies treated would be cataract, glaucoma, presbyopia ('tired eyes') and others. If surgery would be needed he would perform those in a nearby private hospital and would look after you during the hole time of recovery.
If you would like to make an appointment with Dr. Mariano Salvatierra please click here.
Please don't hesitate to get in touch with us should you have any further questions or to make an appointment.