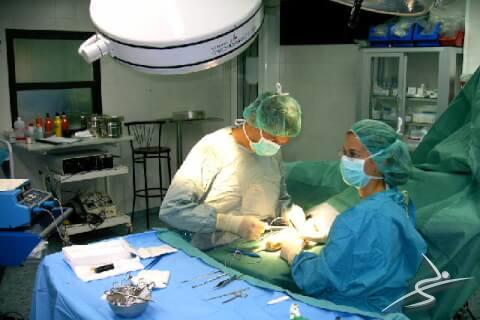 Hand Surgery – Benalmadena
UK- trained Orthopaedic surgeon Dr. Alf Neuhaus has also been trained for several years in hand surgery. He frequently performs standard procedures like median nerve decompression for carpal tunnel syndrome or trigger finger release as an out- patient procedure under local anaesthetics, using the facilities of Clinica SANDALF. The advantages of out- patient procedures are that no hospital stay is needed, because the procedure is performed under local anaesthetics. You therefor do not need to come in starving for the procedure and you can go home straight after it.
Following these procedures the pain and, in case of a carpal tunnel, the numbness of the hand would be gone immediately. In 10 to 12 days you should be back to normal daily activities, and within three weeks back to sports, including playing golf, tennis or similar.
Far more sophisticated procedures like the release and decompression of Dupuytren's disease would be performed in a nearby private hospital. Orthopaedic surgeon Dr. Alf Neuhaus would bring his own special instruments for this type of surgery. Depending on how far and how long the effected finger(s) had been bend towards the palm of the hand he might apply a plaster splint immediately after the surgery for a few weeks. Hospital stay would be two days, and all follow up consultations for wound control suture removal and special hand therapy by our UK- trained physiotherapist would be performed in the facilities of Clinica SANDALF.
As the wound of a Dupuytren's disease can effect most of the palm of the hand, it can take three weeks to heal completely. It can take another three weeks to achieve complete range of movement of the operated finger(s) to full extension. Normal use of the operated hand should be possible by 6 to 9 weeks, including swimming. And after 12 weeks you should be able to go back to any sports activities including, golf or tennis.
If you are a UK- citizen you are entitled to a refund of the costs for the surgery by the UK NHS of up to 80%. Our team would be very happy to assist you with the paper work. Please be aware that it is yet not clear if this NHS support would still be available after the Brexit.
Please get in touch with us if you would like to know more or to make an appointment.
Private Hospital
The private hospital used by UK-trained orthopaedic and trauma surgeon Dr. Alf Neuhaus is about 10 minutes' drive away from his out- patient clinic Clinica SANDALF. This modern and fully equipped private hospital has all facilities needed, 4 state of the art operating theatres, intensive care unit and 24h on-call medical staff and physicians. All rooms are equipped with TV (Spanish, English, German), WiFi and an on-suite bathroom. 
The friendly and helpful staff speaks English, and orthopaedic surgeon Dr. Alf Neuhaus and his UK-trained physiotherapists will come in every day of your stay to look after you (wound control, pain medication, arranging further tests if needed, joint mobilization, etc.). Further follow ups for wound control, suture removal, further investigations like X-rays, joint mobilization and other will be performed using the clinic facilities following hospital discharge.
Bitte zögern Sie nicht, sich mit uns in Verbindung zu setzen, falls Sie weitere Fragen haben oder einen Termin vereinbaren möchten.