Consultant Orthopaedic Surgeon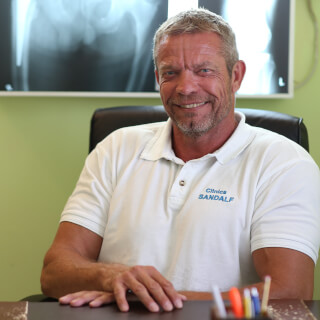 Dr. Alf Neuhaus, Consultant Orthopaedic Surgeon, studied medicine at the university hospital in Hamburg, Germany, before initiating his training as an orthopaedic surgeon in different hospitals in Germany and the UK.  During his training and in those years afterwards he was able to gain vast experience in conservative and surgical treatment of standard and complex orthopaedic and trauma problems. This includes treatment of arthritis, rheuma, gout, tendonitis, sprains and strains, neck and back problems, sports injuries and other.
Dr. Alf Neuhaus has also used his training to specialise in hip and knee surgery – total hip replacement, hip resurfacing, total knee replacement, key hole surgery (arthroscopy) – hand surgery – tendon repair, Dupuytren's contracture – and foot surgery – hallux valgus, toe correction -. He also obtained extensive experience in treating trauma cases and accidents, reaching from closed re-positioning of fractures to open reduction and internal fixation of complex fractures, using advanced techniques and materials like titanium plates and screws, intra-medullary nails, and tendon and ligament repair – Achilles tendon rupture, ACL- reconstruction.
Having the sate of the art equipment like digital X-rays and ultrasound scan available in Clinica SANDALF Dr. Alf Neuhaus will be able to determine the origin and severity of the problem and initiate the appropriate treatment. Even in case of an urgent case with immediate surgery needed Dr. Alf Neuhaus would arrange transport to the private hospital that he uses to perform surgical procedures, to meet you there and start all diagnostic investigations and laboratory tests, and if needed the surgical intervention as appropriate.
To arrange an appointment with Dr. Alf Neuhaus please click here.
Please don't hesitate to get in touch with us should you have any further questions or to make an appointment.